Major Expectations Online Sale dates:
September 26 - October 17 - November 7
all sales held on Showpig.com
Nearly 60 litters farrowed January/February! Please give us a call to discuss your needs and we would love to show you this exciting set of pigs! We offer our best pigs in our Online and live sales; private treaty sales are available after sale dates.
Call us to set up a visit!


Litters sired by:
Visionary, Exclusive, Beat the Man, Best Man, Savage, and more!


Saturday April 1, 2017 - 6:30 pm
Gallia County Fairgrounds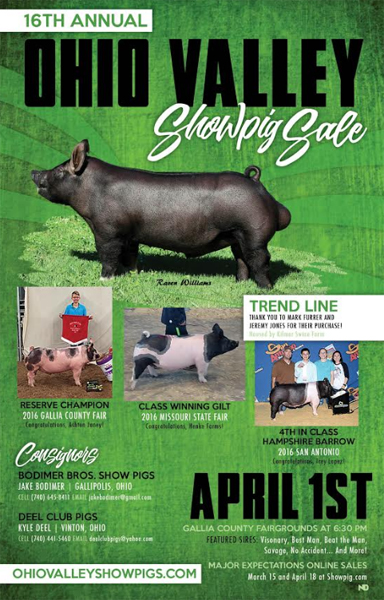 Click to view larger


hosted by Showpig.com

March 15
April 18

Cooperative delivery is available to most locations, please discuss prior to sales.